Animation Nation - Blogs
Scripting
Animation and Design
Animation Nation Vote!
*Details*
Image
Name
Upside
Dowside
Coop Burtonburger

Kid vs Kat Main character

To easy for leader
Can't Attack
Hard to Voice

Deramon

Has a crown
Can Attack
Easy to Voice
Graphics
Type of Graphics for the show.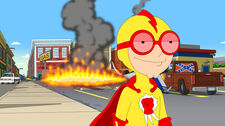 Episodes
Episode 1 Plot - A Pilots Error
Marcus is seen > Backstory to Kat and Silver > Meet Marcus > Meet Kudamon > Marcus escapes the prison cell > Silver Voice > Learn that Marcus is in Space > Meet Silver >Control Ship > Take Back > Emotional Part > Happy Ending
Episode 2 Plot - Calling for Danger
Arrive at New area > Kudamon Attack > Hospital > Marcus Escapes > meet locals > get into trouble > meet leader > Marcus near death > Cloaked Figure appears > Marcus escapes again > run to water front > Kudamon Emotional speech > leader lets Marcus stay > walk off with a back view of 2 Cloaked Figures back > End
Episode 3 Plot - Digging Deep
Image
Name
Job
Armadillomon
Mine Owner
Drill Suit
used on Marcus

Suit could turn evil
you see how the suit works

Excadrill
Expert Driller
*Excadrill will remove his skin for once
Prairiemon
Claws
*Only his claws will be used, as a tool for markus
Ideas For later Off Focus Episodes
One Piercing Note
Notes from Dream
| Image | Name | Idea |
| --- | --- | --- |
| | Azulongmon | Missing a orb |
| | Arceus | Stole orb and plays the Piercing Note |
Ponys Are't Just For Show
This episode will have characters from "My Little Pony" and will be set in PonyVille.
Scrapbook
In here, and below, i keep my ideas for the show, these may be in the show later, as soon as we get a idea for them :)
Design Notes
For Moving the mouths they move in 3 Frames: Like This Image
Sometimes there still Images but they zoom in.
Image Notes
Animation Frames
Silver
Silver Ship
Kudamon
Repamon
Gubamon
Electmon
Gomamon
Other Digimon
Heroes and Villains
Kudamon, the hero and Silver will be in Epiosde 1, the others are Betas.
Heroes
Villains
Other Stuff
Ideas For Later

http://i513.photobucket.com/albums/t331/GreatWhiteShark1/Dragon%20Drive/tachibana_drgn-airblast02S.jpg
Frame Movement
http://img594.imageshack.us/img594/2678/snfacebook.png http://img190.imageshack.us/img190/1823/sntwitter.png TwitterShare
Wiki To do list 2012
| Task | Note | Completed? |
| --- | --- | --- |
| Add new Images to Leader Boord | get images that fit the category | |
| Update the Kid vs Kat Answer Wiki | Need a Theme and Style, that not the same as the main wiki. | |
| Fix up the Old Pages | Fix the the old pages on wiki, so they can be used. | |

http://kidvskat.wikia.com/wiki/Kid_vs._Kat_Wiki:My_Pet
Wiki Spotlight Project
Parsonsda Mega Test Area!
Community content is available under
CC-BY-SA
unless otherwise noted.