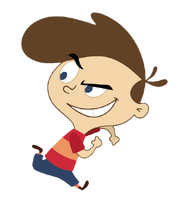 I am Joshua Bailey, and I like Kid vs. Kat, but there's are some things that I don't like.
Likes
Dislikes
Kat
Old Lady Munson
Burt not believing Coop about Kat.
Millie's crying and being spoiled.
Kat getting Coop into trouble.
Old Lady Munson separated Coop and Fiona.
Old Lady Munson talking trash about Coop and Burt.
Munson blames Coop for everything.
Old Lady Munson being mean to Fiona for being with Coop, even though she likes Coop.
Kat making Coop look bad in front of Fiona
Old Lady Munson sending Fiona away. 
Favourite characters
Coop Burtonburger
Burt Burtonburger
Millie Burtonburger
Dennis
Fiona
Phoebe
Growler
Non-Favourite characters
Kat
Old Lady Munson
Lorne
Harley
My favourite episodes
Let the Games Begin
Something About Fiona
Never Cry Sheep
Trespassers Will Be Persecuted
Non-favourite episodes
Gallery
Community content is available under
CC-BY-SA
unless otherwise noted.