This article is a Stub. Hasn't got much information on it. You can help by expanding it.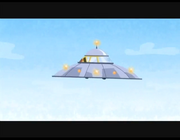 Seen in U.F. Float in Season 1. Burt wanted to enter the House of Swap with a Flying Saucer float into the Bootsville Parade so Coop, and Dennis help him build it and kat makes some changes to get it to fly to make a break for Home last night, but when Coop doesn't leave the car they have a comical journey all over the world. it then re-appears in the episode Over the Radar as Kat and Dennis go to save the Burtonburgers after the they were mistaken for aliens and taken to a top secret base by The Guys from Arena 102 until it was completely Destroyed when Dennis tries to land it.
Community content is available under
CC-BY-SA
unless otherwise noted.