"Turn The Other Cheeks"
is the 42nd episode of
Kid vs. Kat
and the 16th episode of
Season 2
. It aired on March 26, 2011 with
Birthday Bashed
.
Plot Summary
Mr. Cheeks comes back for revenge on Kat, but Lorne and Harley got him to help them with their homework. Meanwhile, Millie wants to get a "First aid" medal, with help from Kat; Coop and Dennis go to rocket science camp.
Trivia
Cheeks hitches a ride on the truck driven by Harl and Lorne's mom who drives with a bandaged bare left foot.
Cheeks instructs the brothers to attach the green capacitor (wire) to the photon attenuator (little shiny thingy)
he says a wrong move would scatter them all across 3 galaxies
Gallery
Turn The Other Cheeks (Image Shop)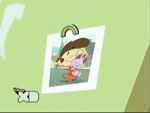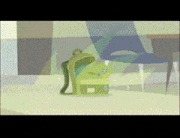 Community content is available under
CC-BY-SA
unless otherwise noted.