This article is a Stub. Hasn't got much information on it. You can help by expanding it.
Todd Kronklin
(initially called the
Curly Swirl dude
by
Lorne
and
Curly Swirl kid
by
Coop
) is a guy selling ice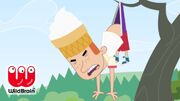 cream early in
You Scream, I Scream
.
Closed captions describe him as having a "hyena laugh".
Dennis calls him "master of the quad wedgie" and "sadistic supersonic soda soaker"
Coop
calls him "destroyer of skateboards" and calls him "Kronklin" while confronting him. He is called Burtonbooger in return.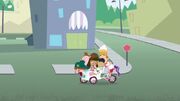 Harley says he's a teen-ager.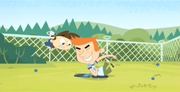 Coop
dreamed of paying back at Todd so he plans some traps and he blocks his road with a net throwing him off his ice cream cart and he ends up getting a wedige on a tree branch.
Coop takes the ice cream cart where Kat puts the potato nuke in under Bootsville Hill and it explodes and it starts raining ice cream everywhere and also wrecking Todd's cart.
In the end, After Todd was defeated, he was pedal his cart with the kids eating ice cream and laughing much for Coop and Dennis' excitement.
Community content is available under
CC-BY-SA
unless otherwise noted.