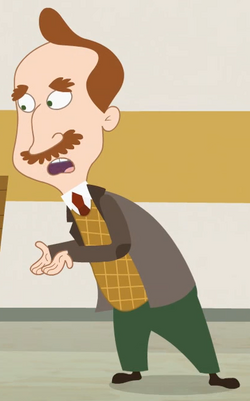 Principal Dilegard hires Mrs. Munson as a last-resort substitute teacher in Coop D'Etat. Like Burt and Coop, he also catches himself calling her "old lady Mun..."
Coop refers to him by name when he finds him in detention, given by Munson for running in the halls. Dilegard tells Dennis "I had her as a teacher when I was your age".
Appearance
He has brown hair (pointing upward in front) moustache and eyebrows.
His eyes are dark green like his pants.
He wears a cross-thatched orange vest under a jacket that is mostly light brown but has dark brown sleeves and a collar as black as his shoes.
Trivia
Community content is available under
CC-BY-SA
unless otherwise noted.