This article is a Stub. Hasn't got much information on it. You can help by expanding it.
The King of England is Mentioned by Mrs. Munson in Down the Creek, saying she saved him from a Marauding Band of Rabid Dodo Birds.
After Munson leaves, Millie comments to Kat that she has a vivid imagination, and implies that this and her other stories are "totally made up".
Millie might be wrong though, as a glimpse inside Munson's home shows a picture on her wall of her in armor (with a red cross on the breastplate) lifting a bearded brown-haired man wearing a crown overhead as 2 birds attack.
Other pictures confirm her planting a flag on Mount Bootsville (though how a picture was taken when it supposedly shattered right after raises questions) and another shows her being bitten by 4 cave-kids who resemble Coop, Dennis, Lorne and Harley.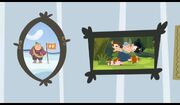 There is also a picture of her as a Sheriff on the wall and (not a picture) presumably the stuffed corpse of Bigfoot standing on her floor.
Ramifications
Dodos are estimated to have gone extinct in the 17th century indicating some possible explanations:
Dodos have not gone extinct in this timeline
Munson is centuries old
Munson is a time traveler
The woman in the photo is not her but someone who resembles her
The photo is faked to convince visitors of her story
The birds are some other breed other than Dodo and Munson mistook their breed
External links
Community content is available under
CC-BY-SA
unless otherwise noted.