Henry


Henry
Full name

Henry Chan

First appearance
Quotes

"Up your face, Burtonburger!"

Played by

Adrian Truss

Last appearance

Henry is Dennis' father. Unlike Dennis, Henry has an Asian accent. The initials on his suit imply his middle or last name to begin with "L" (likely Henry Lu based on scripts) however others think his name is Henry Chan. If Chan is not his surname then his wife, Dennis' Mom, may be where it comes from.
Henry is very tech-savvy and in almost every episode he is seen with a new piece of technology. He loves computers so much that he owns a computer cafe. He uses electronic device's all the time and often has modern technology to show off.
In U.F. Float his place of work is described by Burt as his internet cafe and small appliance repair shop.
Etymology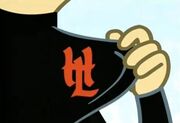 Appearance
He and Dennis have the same head shape and skin tone, but Henry is almost bald.
He may be Asian-Canadian, source needed.
Dennis mentioned a relative in Hong Kong (China) but it is not clear which side of the family he was on.
The use of a ninja suit suggests a Japanese aspect to Henry's ancestry.
Gallery
Gallery: Henry
Relationships
Burt
He frequently argues with Burt Burtonburger because they many things as competition.
Dennis
Ladies
Trivia
Community content is available under
CC-BY-SA
unless otherwise noted.