Flea Brains

Season №:
2
Season episode №:
2A
Overall episode №:
55
Prod. no.
202
Original airdate:
September 18, 2010
Director
Rob Boutilier
Written by
Marcy Brown & Dennis Haley
Storyboard:
Sabrina Alberghetti Josh Mepham & Mark Pudleiner
See also
General • References
Notes/Trivia • Goofs
Episode guide
Previous
Tickled Pink
Next
Menace the Dennis
"Flea Brains"
is the 28th episode of
Kid vs. Kat
and the 2nd episode of
Season 2
. It aired on September 18, 2010, with
Menace the Dennis
.
Plot Summary
Kat makes a swarm of flea-sized mind control robots that hop into the ear and allow him to control their thoughts. Kat hypnotizes the Bootsville residents including Dennis in a way to turn them against Coop and tear him limb from limb.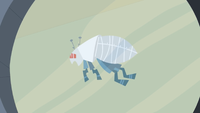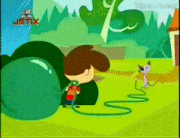 Community content is available under
CC-BY-SA
unless otherwise noted.